Here at
Feath & Kee
, we have made it half way through the first week of school. With Fall and the cooler temperatures just around the corner, I decided to put together an outfit that would work well with early Autumn in North Texas, (or just about anywhere, but the weather can be really unpredictable here).
So the inspiration item for this week, is this pair of
earrings
from our
shop
. They are made from recycled wood, and are painted with acrylic paint. The sides and back are teal, and the fronts have a shimmery, metallic copper.
So finding just the right pair of jeans can be really difficult. These
handmade jeans
from
Garbedge Designs
are made custom to your measurements!
Tuck your custom, handmade jeans into these
leather moccasins
from
Holy Cow Products
. They have a rubber sole and were cut, punched, and sewn all by hand.
This
handmade crop top
from
I Heart Fink
is made from fabric that the designer hand printed from her own original artwork.
So, take hand tied hemp, czech glass, coconut shell, black matte beads, and one gorgeous African Agate pendant. What do you have? A beautiful
one of a kind necklace
! Get it at
Creative Earth Jeweler
.
This
wool-blend cape
from
RebelliousBella
is trimmed in faux leather, and will work great on those chilly mornings, and cool evenings.
Things usually seem to get a little hectic in Autumn. Not sure if it is back to school, or the cooler weather meaning that us weak humans are able to move a little faster or what, but everyone is constantly on the go. One of the reasons that I love this
upcycled burlap tote
from
Back Alley Chic
(in addition to the fun Star Trek lining), is that is roomy enough to just through everything in and go.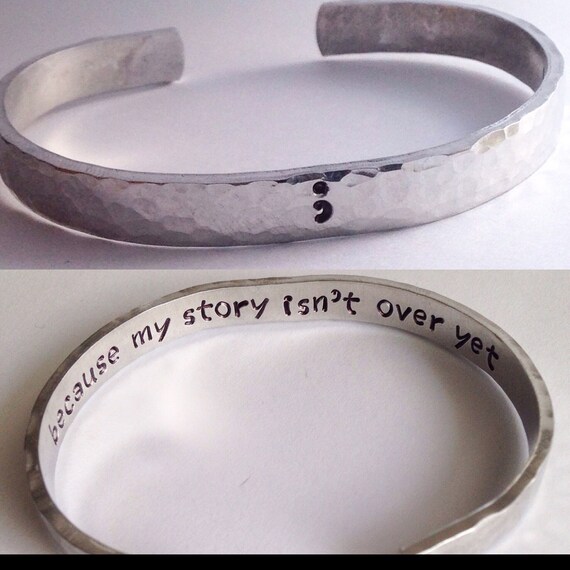 Semicolon Bracelet from Charmed by Cindi
I love this
bracelet
from
Charmed by Cindi
. No matter what you might be going through, your story is definitely not over, but just a chapter. Enjoy it, learn, and live it! Sometimes it can help to have a reminder, and this one is lovely.
That is it for this week. :)
-- Jessica