With the holiday season in full swing, I put together an outfit perfect for running around doing last minute holiday errands.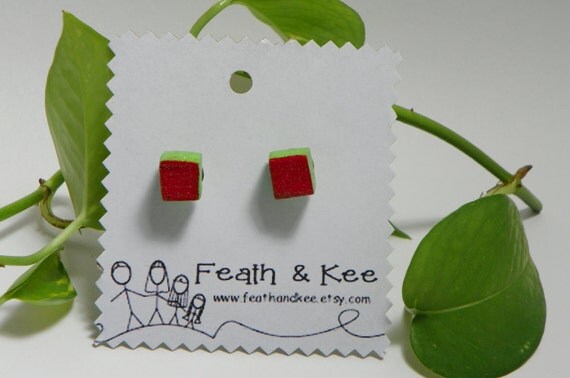 Festive Earrings from Feath & Kee
The inspiration item from our
shop
this week, is a pair of
wooden cube earrings
. They are made from recycled wood. The sides and back are a bright lime green with green glitter and the fronts are a bright red with red glitter. They are mounted on stainless steel posts.
A cotton blend fabric and distressing ensure that this pair of
jeans
from
TruLoveWorkshop
will be like pulling on your favorites.
Not sure if you are ready for a full on commitment to the whole ugly Christmas sweater trend? This
cute shirt
from
The BeDazzled Elf
is festive with out being over the top.
Nandy's Nook
always has a great selection of mug sleeves and coffee cup cozies. This rustic
mug sleeve
is no exception!
That is it for this week! What do you think about the layout?
-- Jessica